#Others
#Rookie
#Tip
#Life Skill
#Skill
#Customization
#Item
#Knowledge
#NPC
#Central Market
#Landscape
#Class
How to Create a Unique and Personal Style for Your Outfit with Gear Dyeing
May 13, 2023, 23:08 (UTC+8)
509 1 3 0
Last Edited on : May 14, 2023 (UTC+8)
# 1
Good evening everyone,
Saturday, the day before Sunday. Don't forget to have fun, especially with your family in your real life and stay healthy.
Don't risk getting separated and losing your family or friends during a vacation excursion to enjoy rides or nature. Therefore, you may need to establish a uniform or dress code during the tour.
In Black Desert Online, you can differentiate your character by not only wearing unique outfits but also by customizing its color. You can access the dye menu by pressing Escape and selecting Character, then clicking on the Dye option (or by typing "dye" in the search bar). Alternatively, you can press J while in idle mode to open the dye menu.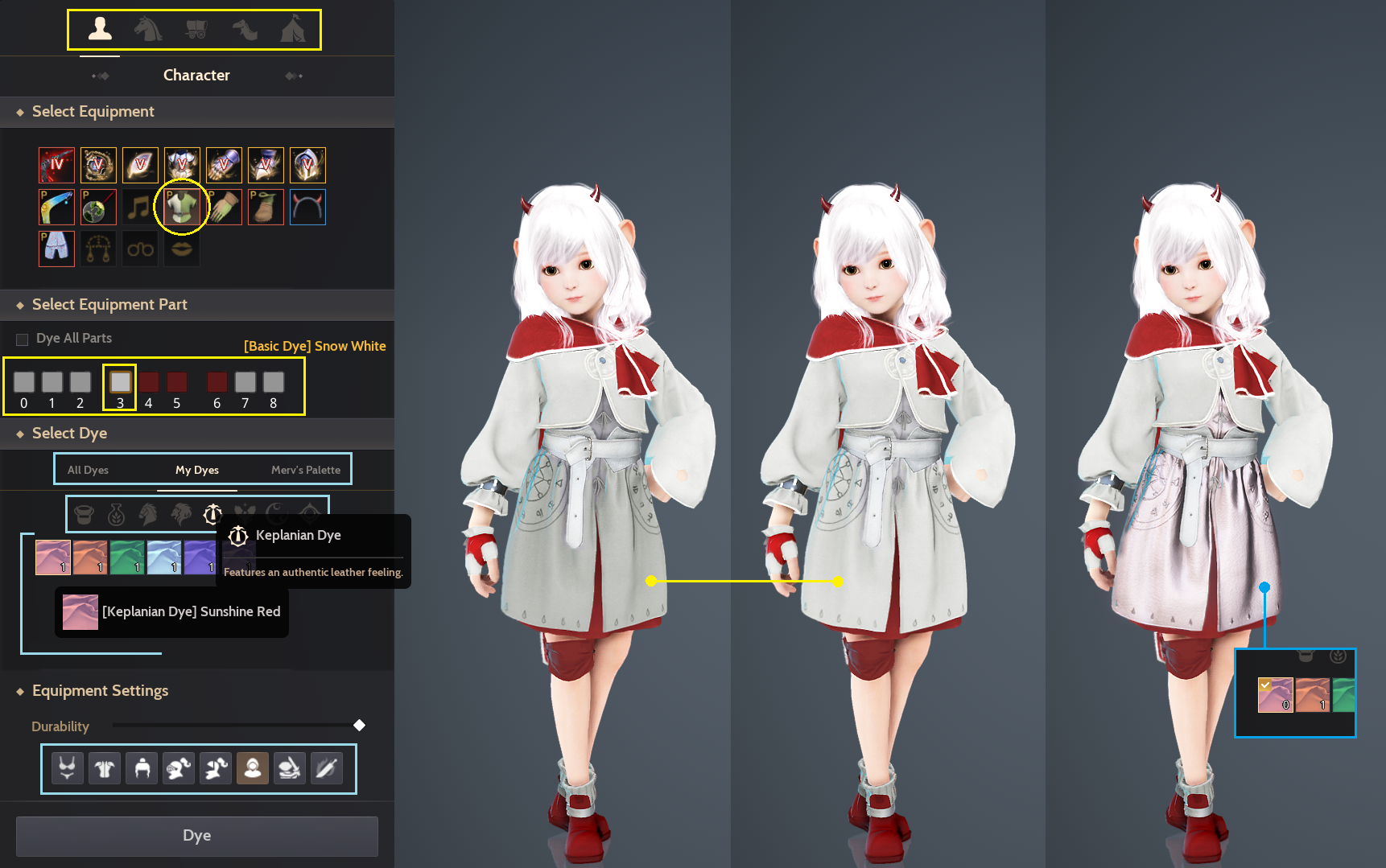 ▶ This shows all the gear or items that you can customize with dye. You can customize the gear or outfit of your character, horse, wagon, camel, and tent.
▶ You can select any of your outfits or the skins of your weapons or defense gear that you want to dye. Note that some gear, such as the Blackstar weapon, cannot be dyed.
▶ In equipment part selection, you can choose which part you want to customize the color of by clicking it. The selected part will blink in the preview, with the color alternating between white and a darker shade.
▶ You can select between three dye options: 'All Dyes,' 'My Dyes,' and 'Merv's Palette.' In 'All Dyes,' you can see all the available dyes and how many you have in stock. In 'My Dyes,' only the dyes that you have will be shown. 'Merv's Palette' displays all available dyes and has an unlimited use count. However, to use 'Merv's Palette,' you need to have an active 'Merv's Palette' buff or 'Value Pack' that you can purchase from the Pearl Shop. Alternatively, you can purchase dyes individually and collect them for permanent use without needing an active 'Value Pack' or 'Merv's Palette' buff.
▶ There are several options to dye your gear, including basic dye which works on any material, Olvian dye for an authentic fabric feeling, Velian dye for a glossy fabric feeling, Heidelian dye for an authentic silky feeling, Keplanian dye for an authentic leather feeling, Calpheonian dye for a glossy leather feeling, Mediahn dye for an authentic metal feeling, and Valencian dye for a shiny metal feeling.
▶ You can also hide your cape, switch between idle and battle stance, and also show your underwear to fully maximize the color customization of your outfit and gear appearance.
▶ Select the specific part of your gear or outfit that you want to change the color of. Once you have chosen the desired type of material and color, simply click on it, and the color of that part will change to your selection.
If you're not satisfied with the default color palette available in the dye category, you can click on the 'color palette' option to the right of it, and the color palette window will appear.
You can choose any color in the RGB palette, and once you've found your desired color, click on 'save color' to save it to the custom color slot. You can also select the dye category to give any material feeling to that custom color.
After customizing the color of a certain part of your gear, you can move on to the next part and then the next gear. Once everything is done, click on the 'Dye' button at the bottom of the left panel, or press 'Escape' to cancel and undo any changes.
You can check your currently active 'Merv's Palette' buff, along with 'Agris' and any other buffs such as 'Value Pack', on the top left of your screen near your character level information. To buy dyes and Merv's Palette, press F3 to open the Pearl Shop and go to the Beauty menu. For the Value Pack, you can find it under the Travel Aid menu. Don't forget to always check the Hot & New menu for discounts.
And finally, you will not be separated from your family, take care and love them even though they are horses and geese.

Criticism and suggestions are very welcome.
Thank you very much.
Sincerely,
Irishtia
your truly wholeheartedly supporter