[Moon's Week] Boss Blitz Rewards bearing the Moon Aura!
Events
Sep 20, 2023, 11:00 (UTC+8)
---
---
---
---
---
---
[Moon's Week] Boss Blitz Rewards bearing the Moon Aura!
Sept 20, 2023 (Wed) after maintenance - Oct 4, 2023 (Wed) before maintenance
---
After defeating bosses vulnerable to the Moon Aura,

all additional boss blitz rewards will be yours!
Summon the

Black Spirit (/)

and accept the

[Event] Craving for Power quest →

Defeat one Moon-feebled Boss!
Tip 1! You can earn rewards by defeating bosses at any Calamity level!
The difficulty of Calamity 1 in the Black Shrine has been reduced with the Sept 13 (Wed) maintenance, making it easier to defeat than before!

Tip 2! Invest a light orb to defeat the bosses vulnerable to the Moon Aura! It will make defeating the Black Shrine bosses easier!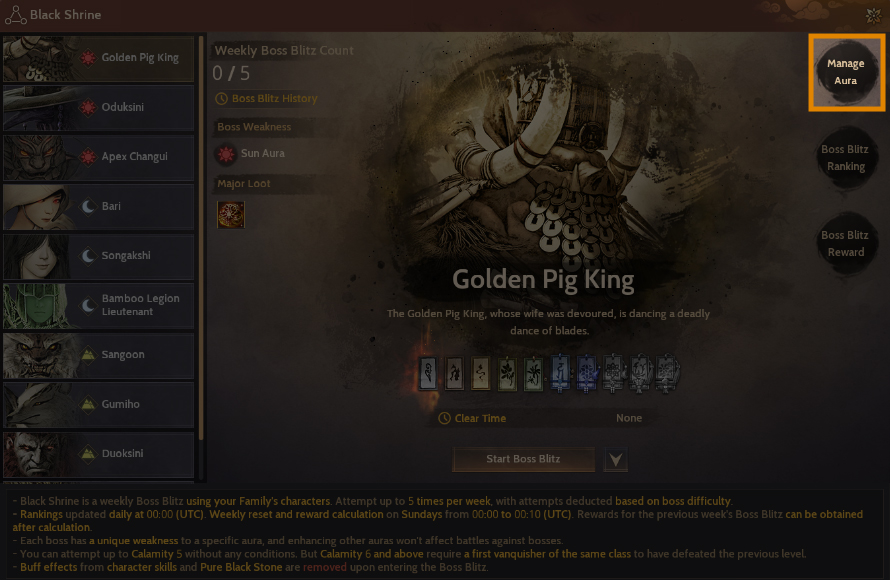 ▲ Click "Manage Aura" in the upper-right corner.


▲ Press '+' button to invest a light orb to increase AP and DP!
* Bosses encountered during Main Quests do not count,
only the Bosses defeated through the Black Shrine will count toward quest completion.
[Event] Boss Blitz Reward: Moon Aura (Rank 1)
Obtainable Items!
Dahn's Gloves
Flame of Hongik
Crystal of Harmony
Girin's Crystal
* The quest can only be completed once per Family with a character that is Lv. 56 or higher.


Preview!
Earth's Week of the Black Shrine is coming next.
Find the Black Shrine: Moon-feebled Bosses
Defeat the bosses via ESC menu - Adventure (F5) - Black Shrine.
Moon-feebled Bosses: Bari, Songakshi, and Bamboo Legion Lieutenant.


* Additional Notices
- Items listed without a quantity are all 1 quantity.
- [Event] Moon Aura: Craving for Power quests are not counted towards the completion of Rulupee's Adventure Log.
- Pearl Abyss reserves the right to change or cancel the event depending on mitigating circumstances. Any changes will be announced on this event page and will not be given separate notices.
- Events items may have restrictions on trading, selling, and usage periods, and the binding settings may vary for each item. Therefore, it is not possible to transfer or recover such items due to these reasons.
- For more information on the binding setting of items, please check the in-game item description.
- Items and/or rewards that have been used normally cannot be recovered.
- Participating in the event using inappropriate methods may result in the cancellation or repossession of your reward(s) and may lead to a restriction on game access.
- For any questions or concerns regarding the event, please contact us via [Support].
- Any content not mentioned on this page is subject to the [Black Desert Event Rules].