#Others
#Rookie
#Events
#Tip
#Skill
#Customization
#Knowledge
#Treasure
#Season
#The Story
#Landscape
#Class
How to be better in creating character
Jun 8, 2023, 14:57 (UTC+8)
266 0 0 0
Last Edited on : Jun 19, 2023 (UTC+8)
# 1
Hello everyone, I am really grateful for all of you to visiting my first guide. I hope you will get useful information and tips about creating your new character.
There's so many beautiful and handsome, even cute characters in black desert online. Pick one class you like and start setting your dream character.

First, let's create new character together.
Second, choose your class (choose your class means choose your character too)
Third, pick your character horoscope. The function of horoscope is, if there's a npc which got same horoscope with you, you can get favor more easily from that npc.
For example, One of the npc, Lorenzo Muray is the stable keeper at Velia. If you want to gain favor from him, it would be easier if you choose hammer horoscope for your character because Lorenzo Muray horoscope is hammer. There's so many npc in black desert online with variety horoscope. So, don't worry and just pick any horoscope you like.
Fourth, if you stuck while customization your character, or feels not satisfied on your character, try to use beauty album. At the bottom center of the screen, there's a choice called beauty album. Left click it, and small window will pop up with so many beautifull character. You can choose any character you like.
If you already got your choice, just apply it into your character.
Fifth, however there's some of the setting which is unchangeable, so you can't change it's appereance again.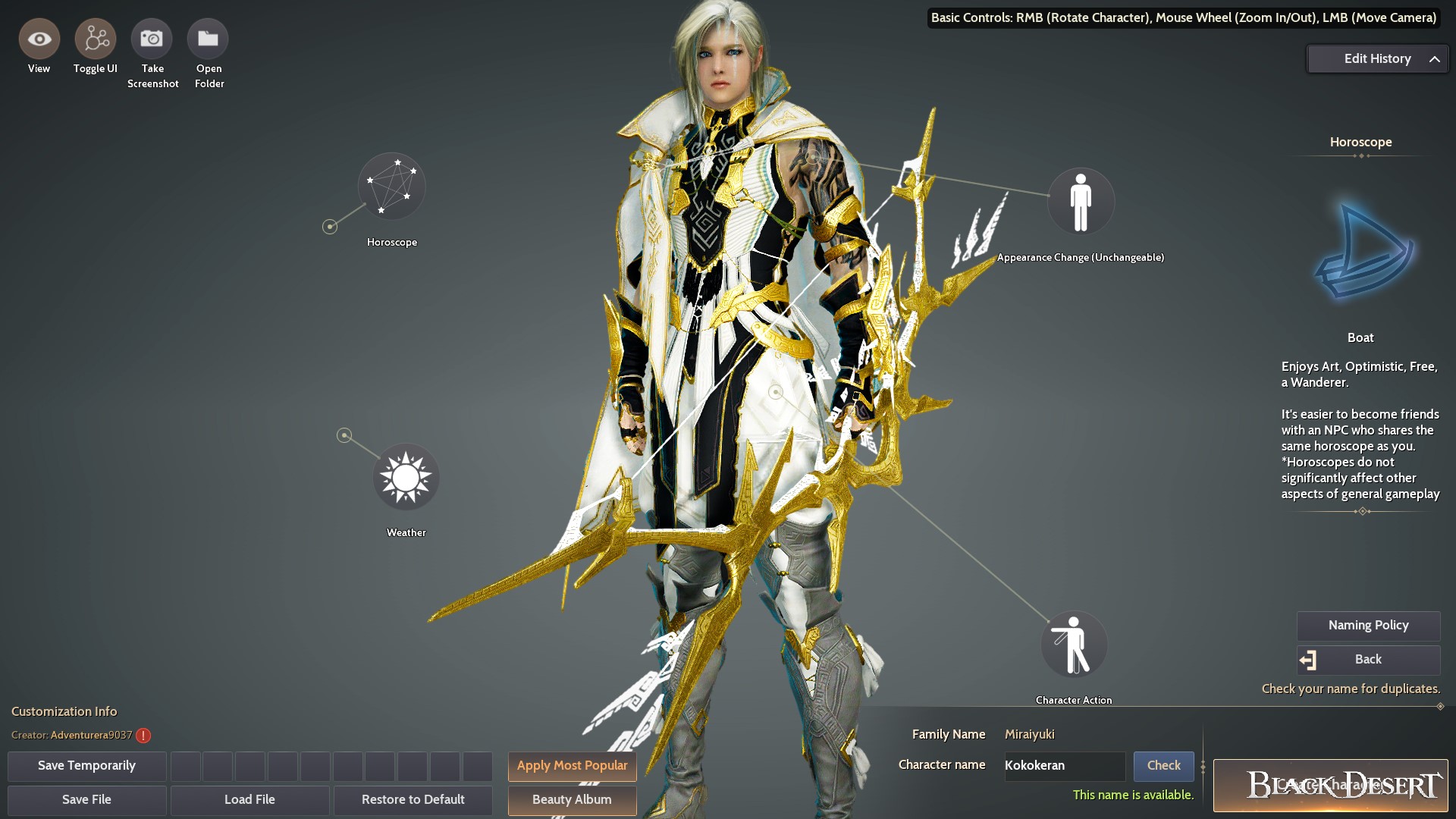 Sixth, now you can start costumize your character (of course if you choose appereance from beauty album, make sure the appereance is changeable).
Pick your favorite hair.
Pick your favorite hair colour, don't forget to set hair colour, tips colour, and roots colour.
Next, setting your face again, don't pick the face type again if you already apply from beauty album, just change your eyebrow colour, eyelashes, eyes colour, etc.
After that, body type. You can setting it into your preferences.
And the last one is, choose your voice.
Seventh, don't forget to check your character name whether it's available or not. after that click create character, and click yes or enter.
Enjoy playing black desert online. Thank you very much.
Critism and suggestion are very welcome.