[Complete] January 25, 2023 (Wed) Service Maintenance Notice
Notices
Jan 20, 2023, 17:00 (UTC+8)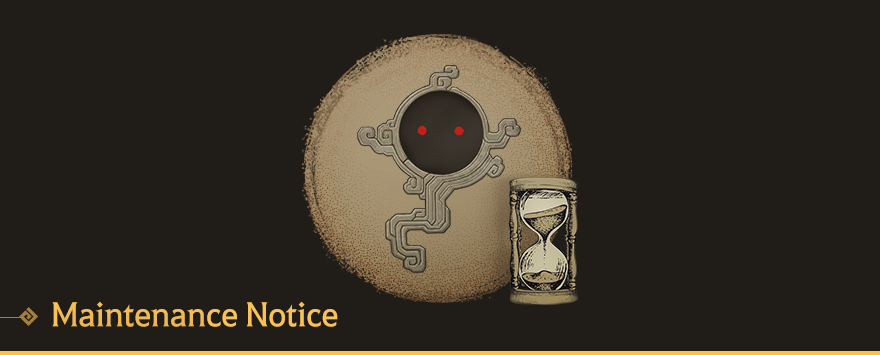 Greetings Adventurers!
We will be performing our regularly scheduled maintenance on January 25, 2023 (Wed) for our Black Desert game in order to improve the service.
During this time, the services undergoing maintenance will be temporarily unavailable.
Please refer below for more information regarding the maintenance.
---
Maintenance Details
■ Game Maintenance
- Maintenance Period: January 25, 2023 (Wed) at 06:00 AM ~ 10:00 AM (GMT +8)
- Affected Service(s): Black Desert game servers
- Impact: All Black Desert servers will be unavailable; Unable to send items in Web Storage to in-game
* Once maintenance begins, you will be disconnected from the game even if you are waiting in-queue.
* Please move your character to a safe location (safe zone) before exiting the game/maintenance begins in order to avoid being attacked by monsters or other Adventurers.
* You may receive an error message if you try to sign-up on our website during the maintenance.
* If you receive an error message stating that you are already logged in after the maintenance, please try restarting your client.
■ Maintenance Reason(s)
- There will not be a new update for the game during this maintenance. However, the following maintenance-related tasks will also be completed.
* Name changes for Guild, Family, and Character Name Change Coupons used after the maintenance on January 18, 2023 (Wed) will be applied.
* Refresh NPC "Confession System"
Ending Events
● Elegance of the Butterfly!
● [5th Anniversary] Seal of Wanderlust
● [5th Anniversary] Celebrating Together
● [5th Anniversary] Crow Merchants Guild Verdi's Special Challenge
● Double Chances on Rare Boss Drops!
● Twilight Prowlers Stalk the Style Album
● Let's meet in the places we've met before!
● Our 5th Anniversary, Let's Celebrate Together!
We appreciate your patience and support while we work on providing you with better services.
Thank you!