[Completed] July 19, 2023 (Wed) Service Maintenance Notice
Notices
Jul 17, 2023, 17:00 (UTC+8)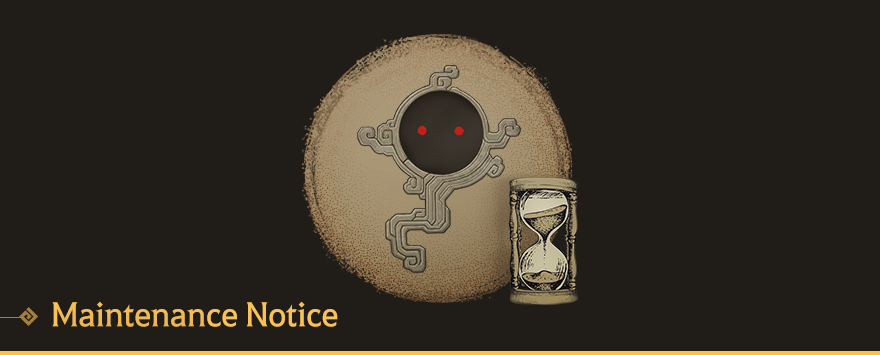 Greetings Adventurers!


We will be performing our regularly scheduled maintenance on July 19, 2023 (Wed) for our Black Desert game and website services in order to improve these services and bring you the latest updates.
During this time, the services undergoing maintenance will be temporarily unavailable.


Please refer below for more information regarding the maintenance.


---
Maintenance Details
Game Maintenance
Maintenance Period: July 19, 2023 (Wed) at 06:00 AM ~ 10:00 AM (GMT +8)
Affected Service(s): Black Desert game servers
Impact: All Black Desert servers will be unavailable; Unable to send items in Web Storage to in-game


Once maintenance begins, you will be disconnected from the game even if you are waiting in-queue.
Please move your character to a safe location (safe zone) before exiting the game/maintenance begins in order to avoid being attacked by monsters or other Adventurers.
You may receive an error message if you try to sign-up on our website during the maintenance.
If you receive an error message stating that you are already logged in after the maintenance, please try restarting your client.
Website Maintenance
Maintenance Period: July 19, 2023 (Wed) at 06:00 AM ~ 08:00 AM (GMT +8)
Affected Service(s): Black Desert official website
Impact: All website services will be unavailable
* The above maintenance schedule and details are subject to change. Any changes will be announced as an update through this notice.
---
Update Preview
Mythical Doom has been released.
Added a failstack system to Mythical Awakening.
Improved Arduanatt and Diné.
Terrmian Beach is now open.
Arena of Solare has begun.
Added Newbie Inventory for new adventurers.
Added a feature to organize inventory by category.
Added Old Moon Furniture Workshop in the Dalbeol Village.
Added Drill Sergeant in Duel Arena.
Separate cooldowns for Archaeologist's Map and Traveler's Map.
Respawn time for some monsters has been doubled.
---
Ending Events
Keep the Flames of Black Desert FESTA Stoked for One More Week of Twitch Drops!
[Earth's Week] Defeat the Earth-feebled boss, and let the adventure support rain down!
What Does Your Summer Look Like, Adventurers?
[Maegu's Awakening] Newfound Power!
Fuel the Fire of the Black Desert FESTA! Hot Time X Treasure Hunt
Time to enjoy Black Desert FESTA!
Black Desert FESTA Celebratory Coin Issued! And a Class Insignia Selection Box as well?!